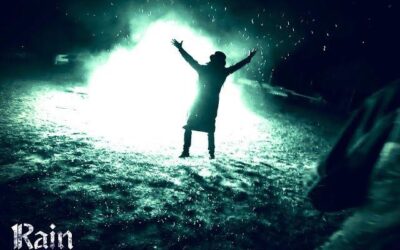 The Making of "Down in Hell Official video is out now on the Band's official YouTube channel, at the following link:...
Maurizio "Evil Mala" Malaguti
Vocals
Alessio "Amos" Amorati
Guitars – Backing vocals
Federico "Freddy V" Veratti
Guitars – Backing vocals
Gabry "The King" Ravaglia
Bass
Biography
When was the last time you have listened to a hard'n'heavy band capable of making vibrate your heart, your head and other much more intimate parts of your body? If you've ever crossed your path with RAIN's, you already know the answer.
RAIN was born in 1980, when the only possible description for their music was simply "heavy metal". Their artistic career has gone through several style changes, but the passion for the most physical, lascivious and metallic hard rock has finally found the way home.
Although their latest album Spacepirates dates back to 2016 and the band fronted a double lineup change the year after, RAIN never slowed down their activity on the live front, establishing themselves as one of the most everlasting and consistent bands in the Italian and European heavy metal scene.
Today the group from Bologna is back in the saddle, relying on the tireless determination of the veteran guitarist Amos The Snake, who in the last decade has been joined by bassist King Gabry, drummer Gunner, singer Evil Mala and solo guitarist Freddy V.
Despite having experienced several creative phases in such a long career, RAIN's style evolved year after year into an energetic, irreverent and street-oriented hard'n'heavy, in the most genuine and rock'n'roll sense of the term. A classic sound, but never nostalgic, which has always succeeded to get inspiration from the most recent evolutions of contemporary music.
The band's willingness to stay constantly updated in terms of production and influences, in fact, allowed RAIN to range naturally from power metal to hard rock, incorporating the heavier branches of the alternative sound and focusing the creative process on the heritage of heavy music's cornerstones.
Over the years, mandatory landmarks such as Motörhead, Judas Priest and Accept have been updated in the vein of an increasingly personal and versatile sound. RAIN have therefore become the ideal band to open concerts of iconic artists (Paul Di' Anno, Michael Schenker, Udo Dirkschneider and Yngwie Malmsteen), but also perfect festival animals, as clearly stated by the amazing performances at the Metal Camp in 2005 and at Metalitalia Festival of 2019 (with Slayer, Anthrax, Children of Bodom, Gotthard, Hardcore Superstar and Phil Campbell).
An artistic path wide open to groove metal and street/glam rock contaminations since the album Bigditch 4707 (1998, Eternal Shadows Records), which RAIN developed even better in the follow-up Headshaker (2002, Deadsun Records) and in the modern classic Dad Is Dead (2008, Aural Music). The European and American tours, supporting respectively Blaze Bayley and the legendary W.A.S.P., become the obvious consequence of this growth.
The album Mexican Way (2013, Aural Music) satisfied the need to experiment with acoustic sounds, paving the way for RAIN's participation in Pistoia Blues 2015 (with The Darkness and Black Label Society). That was just an episode, anyway, because the call of heavy music is too wild and invigorates the celebrated Spacepirates (2016, Aural Music), as always supported by intense Italian and European tours with Jeff Scott Soto's band.
Along the production of the highly anticipated new album, in 2017 the latest RAIN line-up released the single Good Morning Texas (featuring Alessandro Del Vecchio and the American producer Beau Hill) and the cover of Disperato Erotico Stomp by fellow citizen Lucio Dalla, departing immediately for a new European tour again with the masters W.A.S.P.
The recent 10th anniversary reissue of Dad Is Dead, featuring the bonus disc Live In Russi, contributed to point the future stylistic direction. 
During 2019 and 2020 the band worked hard on a bunch of new songs, along with the pre-production and mix of Giuseppe "Dualized" Bassi (Fear Factory and more), who gave a new and fresh boost to the sound and arrangements, insisting even more on modern and groovy solutions, which however will not jeopardize their bloody and down-to-earth trademark.
In October 2021 RAIN released Come back A-Live, the first book ever done by the band, published by Arcana Edizioni and based on the on-the-road 2010 U.S.A. tour experience with W.A.S.P., written by Dave Tonioni (who took part in that tour as merchandiser, photographer, tour manager and much more) and highly acclaimed by the Italian press.
Simultaneously with the book's release, RAIN published a brand new single as a logical soundtrack, named Come back A-Live. 
For a band already used to get acclaimed live, the upcoming album A New Tomorrow, scheduled for release in late 2022, represents a great challenge especially on a creative level. If RAIN have always proved capable of igniting the stages of half the world, this time they have your stereo system in their sights. So, you better be ready.
Line-up
Maurizio "Evil Mala" Malaguti – vocals
Freddy "V" Veratti – lead guitar – backing vocals
Alessio "Amos" Amorati – rhythm guitar – backing vocals
Gabry "The King" Ravaglia – bass
Andrew Gunner – drums
Discography
1984 "Bad Situation" Self producted (Ep)
1986 "Rain is Coming" Self producted (Ep)
1990 "Ten Years After" Sisma records
1995 "Red Revolution" Self producted
1998 "Bigditch 4707" Eternal shadows
2002 "Headshaker" – Deadsun / Self
2008 "Dad is Dead" – Aural Music / Audioglobe
2011 "XXX" – Aural Music / Audioglobe
2013 "Mexican Way" – Aural Music / Audioglobe
2016 "Spacepirates" – Aural Music 
2017 "Disperato Erotico Stomp" – 7 inches vynil – Cimbarecord 
2018 "Dad is Dead" 10th Anniversary Edition – Aural Music 
Official Videos
DVD 2010 "Rain come back aLive" Lm records/Crotalo, which includes the 01/05/2010 show in Russi (RA), and a 2010 U.S.A. tour report supporting W.A.S.P. 
Books
2021 "Come Back A-Live" – Arcana Edizioni